Tesla Model X: Location of Airbags
Airbags are located in the approximate areas shown below. Airbag warning information is printed on the sun visors.
Model X is equipped with an airbag and lap/shoulder belt at both front seating positions. The airbag is a supplemental restraint at those seating positions. All occupants, including the driver, should always wear their seat belts whether or not an airbag is also provided at their seating position to minimize the risk of severe injury or death in the event of a crash.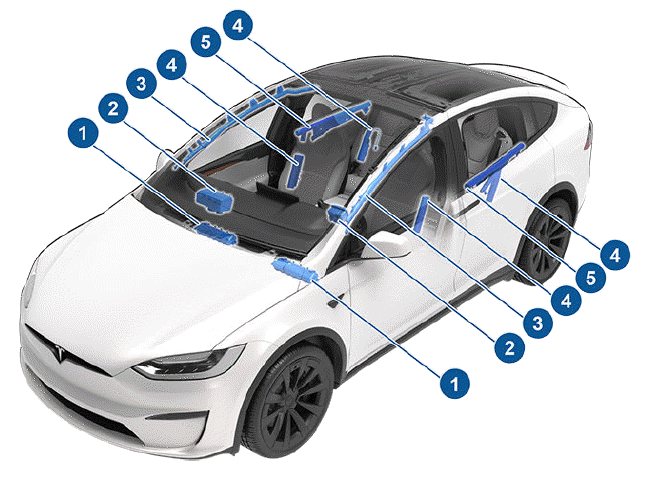 Knee airbags
Front airbags
Curtain airbags
Seat-mounted side airbags
Door-mounted airbags
How Airbags Work
Airbags inflate when sensors detect an impact that exceeds deployment thresholds. These thresholds are designed to predict the severity of a crash in time for the airbags to help protect the vehicle's occupants. Airbags inflate instantly with considerable force accompanied by a loud noise. The inflated bag, together with the seat belts, limits movement of occupants to reduce the risk of injury.
Front airbags are not ordinarily designed to inflate in rear collisions, rollovers, side collisions and when braking heavily or driving over bumps and potholes. Likewise, front airbags may not inflate in all frontal collisions, such as minor front collisions, underride collisions, or minor impacts with narrow objects (such as posts or poles). Significant superficial damage can occur to the vehicle without the airbags inflating and, conversely, a relatively small amount of structural damage can cause airbags to inflate. Therefore, the external appearance of the vehicle after a collision does not represent whether or not the front airbags should have inflated.
WARNING: Before modifying your vehicle to accommodate a person with disabilities in a way that may affect the airbag system, contact Tesla.
READ NEXT:
Model X has the following types of airbags: Front airbags: The front airbags are designed to reduce injuries if larger children or adults are riding in the front seats. Follow all warnings and i
Model X has an occupancy classification system (OCS) that controls the status of the passenger front airbag. NOTE: The occupancy classification system (OCS) meets the regulatory requirement of FMVSS
To help ensure an occupant in the front passenger seat can be accurately classified, the passenger must: Wear a seat belt. Sit upright on the center of the seat cushion, with shoulders resting a
SEE MORE:
Removal Remove the cooling fan module (refer to procedure). Remove the battery cage (refer to procedure). Remove the bolts (x4) that secure the 3-way and 4-way valves to the plastic support beam (torque 5 Nm). Release the clips (x2) that sec
Removal Remove the center console assembly from the vehicle (refer to procedure). Carefully release the clips that secure the side trim panel to the center console. InstallationInstallat