Tesla Model X: Polishing, Touch Up, and Body Repair
To preserve the cosmetic appearance of the body, you can occasionally treat the paint surfaces with an approved polish containing:
Very mild abrasive to remove surface contamination without removing or damaging the paint.
Filling compounds that fill scratches and reduce their visibility.
Wax to provide a protective coating between the paint and environmental elements.
Regularly inspect the exterior paint for damage. Treat minor chips and scratches using a paint touch-up pen (available for purchase from Tesla). Use the touch-up pen after washing but before polishing or waxing.
Repair rock chips, fractures or scratches. Refer to https://www.tesla.com/support/body-shop-support for more information on repair locations and available services.
CAUTION: Do not use cutting pastes, color restoration compounds, or polishes containing harsh abrasives. These can scour the surface and permanently damage the paint.
CAUTION: Do not use chrome polish or other abrasive cleaners.
Using a Car Cover
To preserve the cosmetic appearance of the body when Model X is not being used, use a genuine Tesla car cover. Car covers can be purchased from Tesla. See Parts and Accessories.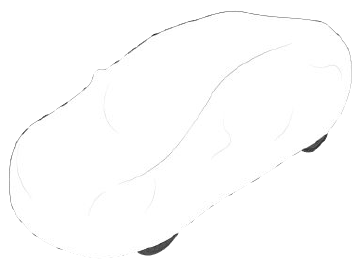 CAUTION: Use only a Tesla-approved car cover when Model X is plugged in. Using a non-Tesla car cover can prevent the Battery from being adequately cooled during charging.
Floor Mats
To extend the life of your carpet and make them easier to clean, use genuine Tesla floor mats (see Parts and Accessories). Maintain floor mats by regularly cleaning them and checking that they are properly attached. Replace floor mats if they become excessively worn.
WARNING: To avoid potential interference with a foot pedal, ensure that the driver's floor mat is securely fastened, and never place an additional floor mat on top of it. Floor mats should always rest on top of the vehicle carpeting surface and not on another floor mat or other covering.
READ NEXT:
Checking and Cleaning Wiper Blades Periodically clean the edge of the wiper blades and check the rubber for cracks, splits, and roughness. If damaged, replace the blade immediately to prevent dama
To check fluid levels, remove the maintenance panel: 1. Open the hood. 2. Pull the maintenance panel upward to release the clips that hold it in place. CAUTION: The maintenance panel protects the
SEE MORE:
Removal Position the vehicle on a lift, but do not raise the vehicle at this time. Open both rear doors and the liftgate. Connect a laptop with Toolbox to the vehicle. Use Toolbox to depressurize the RH rear air spring. Disconnect 12V power (refer to procedure). Remove
NOTE: "I'm Feeling Lucky" and "I'm Feeling Hungry" may not be available in all market regions and on all vehicle configurations. In addition to navigating to a destination of your choice, Model X can also suggest nearby locations based on whether you are feeling Hungry or Lucky. In the navigati