Tesla Model X: Vehicle Certification Label
The Vehicle Certification label provides:
GVWR - Gross Vehicle Weight Rating. The maximum allowable total mass of Model X. This is calculated as the weight of Model X equipped with the heaviest factory selectable options, all passengers, fluids, and cargo.
GAWR FRT and GAWR RR - Gross Axle Weight Rating for the front and rear axles. The GAWR is the maximum distributed weight that each axle can support.
United States:
Canada: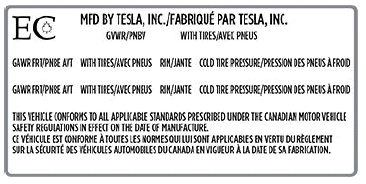 Mexico: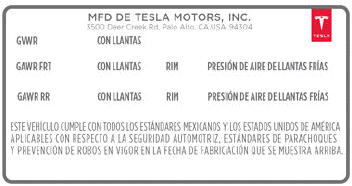 CAUTION: To prevent damage, never load Model X so that it is heavier than GVWR or exceeds the individual GAWR weights.
READ NEXT:
1. Locate the statement "The combined weight of occupants and cargo should never exceed XXX lbs or XXX kg" on the "Tire and Loading Information" label. 2. Determine the combined weight of all occup
Exterior Dimensions *Values are approximate. Dimensions can vary depending on a vehicle's options and various other factors. **Based on 20" wheels with Medium suspension CAUTION: Depending on confi
Wheel Specifications (Factory) NOTE: For instructions on how to jack/lift Model X, see Jacking and Lifting. Tire Specifications (Factory) Tire pressures vary depending on the type of tires fitted.
SEE MORE:
To help ensure an occupant in the front passenger seat can be accurately classified, the passenger must: Wear a seat belt. Sit upright on the center of the seat cushion, with shoulders resting against the seat back and legs extended comfortably in front with feet on the floor. See Examples
Removal Remove the LH front door closeout panel (refer to procedure). Release the manual release cable from the front door interor release handle. Release the screws (x3) that secure the door latch to the door (torque 10 Nm).