Tesla Model X: Opening and Closing Front Doors from Outside
Model X doors are electrically powered. When you approach Model X carrying a key, the doors automatically unlock. The front doors open when you press the door handle.
You can also set the driver's door to open automatically upon your approach. The door partially opens (between 20º and 45º depending on obstacles detected by sensors). Touch Controls > Locks > Automatic Doors. If this setting is on, you can also open the driver's door by double-clicking the key fob's lock/unlock button. A subsequent double-click opens the front passenger door.
You can also specify that you want to unlock only the driver's door when you shift into Park by touching Controls > Locks > Driver Door Unlock Mode.
NOTE: See Cold Weather Best Practices for information on opening the doors in cold weather.
CAUTION: The front doors may not fully open or close automatically when parked on a very steep hill. Never rely on Model X to fully open or close the doors for you when parked on a steep hill.
To close doors from the outside, you can:
Manually push them shut.
Single-click or triple-click the key fob's lock/unlock button (if the Close All with Key Fob setting is on, only a single click is needed to close all doors and trunks-a triple-click is needed if the setting is off ).
NOTE: Powered doors stop moving if an obstacle is detected.
WARNING: Before allowing an automated feature to open or close a front door (rather than doing so manually), it is important to check that the area around the door is free of obstacles (such as people and objects). You must proactively monitor the door's movement to ensure that it does not contact a person or object. Failure to do so can result in damage or serious injury.
Opening Front Doors from Interior
To open a front door while sitting inside, press the button located at the top of the interior door handle and push the door open.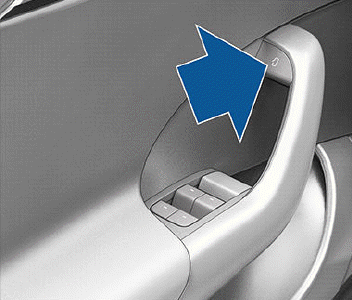 You can also use the touchscreen to open and close doors when inside Model X. Touch (Controls > Locks), then choose the door you want to open or close. In addition, when you press the brake pedal, the driver's door automatically closes.
READ NEXT:
Model X has falcon wing doors that easily open and close by pressing a button, using a key fob, using the mobile app, or touching the associated icon on the touchscreen. The falcon wing doors are e
To open a front door in the unlikely situation when Model X has no power, pull up the manual door release located in front of the window switches. CAUTION: Manual door releases are designed to be
Since your Model X does not have traditional door handles that you can pull from the outside, it is equipped with pop actuators (sometimes referred to as "ice breakers") that are used to assist in
SEE MORE:
Many factors can impact the performance of Autopilot components, causing them to be unable to function as intended. These include (but are not limited to): Poor visibility (due to heavy rain, snow, fog, etc.). Bright light (due to oncoming headlights, direct sunlight, etc.). Damage or obstru
Remove Remove the top pad from the vehicle (refer to procedure). Use a large flat-blade screwdriver to release the front-facing airbag mounting tabs from the top pad. Note: The front-facing mounting tabs are on the side of the airbag that faces the winds