Tesla Model X: Adjusting Second Row Seats (Monopost)
A Model X equipped with monopost seats can accommodate two passengers in the second row. To adjust the position of these seats, use the manual adjustments.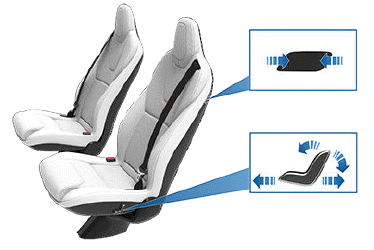 Use the button near the top of the seat to move the seat back forward/backward.
Use the L-shaped button at the bottom of the seat to move the seat forward/backward (up/down on the control) and adjust the backrest by tilting the top of the L-shaped button forward/backward.
NOTE: The backrest locks into position when you release the lever. If a backrest is not locked into position when a drive mode is engaged, the instrument panel displays an alert for the unlocked backrest. Adjust the backrest again, ensuring it locks into position.
WARNING: Before driving, ensure the seat is locked in position. You may need to pull the seat forward or backward until it clicks into place.
READ NEXT:
Bench Seats If your vehicle is equipped with bench seats, a button is located on the backrest of each second row outboard bench seat. This third row ingress button makes it easy for passengers to e
To fold a third row seat, press the button located in the top outside corner of the seat. The button has two detents. Fold head restraint forward. Fold seat back forward. NOTE: Before folding t
All seats contain heating pads. In addition, both front seats are ventilated. You can control seat heaters in all seating positions using the climate controls on the touchscreen. WARNING: To avoid
SEE MORE:
Use voice commands to easily control settings and preferences without using the touchscreen. You can ask Model X to do just about anything, such as adjusting climate controls and media preferences. Available commands include most features that are managed by the touchscreen except driving-relat
In the Profile tab located at the top corner of your phone's screen (shown as an avatar icon), you can: Switch to a different vehicle associated with your Tesla account, if you have access to more than one. Navigate the Tesla Shop. Access the Tesla inbox. Manage your account information and