Tesla Model X: Accessing the Cargo Area
Secure all cargo before moving Model X, and place heavy cargo in the upper trunk compartment.
To access the cargo area inside the rear trunk, push down on the ridged portion of the handle of the cargo cover and then pull up. You can then adjust the position of the cargo cover or completely remove it.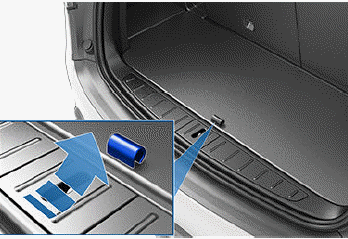 The cargo weight should be distributed as evenly as possible between the front and rear trunks.
CAUTION: Never load more than 176 lbs (80 kg) in the lower tub compartment of the rear trunk or more than 397 lbs (180 kg) on the upper floor. Doing so can cause damage.
WARNING: When loading cargo, always consider the vehicle's Gross Vehicle Weight Rating (GVWR) (see Vehicle Loading). The GVWR is the maximum allowable total mass of the vehicle including all passengers, fluids, and cargo.
READ NEXT:
To open the front trunk, ensure Model X is in Park, and then do one of the following before pulling the hood open: Touch Controls > Frunk on the touchscreen. Double-click the front trunk butto
The Model X hood is not heavy enough to latch under its own weight and applying pressure on the front edge or center of the hood can cause damage. To properly close the hood: 1. Lower the hood unti
SEE MORE:
Dashcam records footage of your vehicle's surroundings when the touchscreen is powered on (see Starting and Powering Off). Dashcam does not record video when your vehicle is powered off. Use Dashcam to record driving incidents, such as a collision. Dashcam requires a properly formatted USB flas
Warning: If the vehicle has air suspension, activate "Jack" mode on the touchscreen before raising and supporting the vehicle. Special tool required for this procedure: Supplier Part Number Description