Tesla Model X: Adjusting Liftgate Opening Height
You can adjust the opening height of the liftgate to make it easier to reach or to avoid low-hanging ceilings or objects (for example, a garage door or light):
1. Open the trunk, then manually lower or raise the liftgate to the desired opening height.
2. Press and hold the button on the underside of the liftgate for three seconds until you hear a confirmation chime.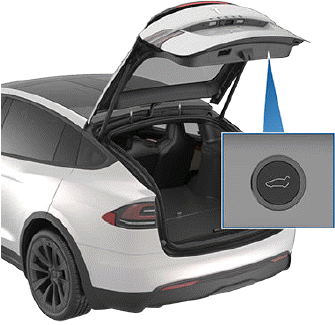 3. Confirm that you have set it to the desired height by closing the liftgate, then reopening it.
CAUTION: Depending on configuration (such as suspension height or wheel selection), your vehicle's liftgate can open up to approximately 8 feet (2.5 meters) high. Adjust the liftgate height to prevent it from coming into contact with low ceilings or other objects.
Closing
To close the liftgate, do one of the following:
Touch Controls > Trunk.
Double-click the rear trunk button on the key fob.
Press the switch located on the underside of the liftgate
If the liftgate senses an obstruction when closing, it stops moving and chimes two times. Remove the obstruction and try closing it again.
READ NEXT:
Secure all cargo before moving Model X, and place heavy cargo in the upper trunk compartment. To access the cargo area inside the rear trunk, push down on the ridged portion of the handle of the ca
To open the front trunk, ensure Model X is in Park, and then do one of the following before pulling the hood open: Touch Controls > Frunk on the touchscreen. Double-click the front trunk butto
SEE MORE:
Tesla serial numbers are 11 digits and alphanumeric, and are often found affixed to Tesla products via a label or engraving. Using the above serial number (T12J000683) as an example, Tesla serial numbers can be decoded in the following way: Digit 1 Manufacturer
Removal Remove the instrument cluster frame (refer to procedure). Remove the screws (x3) that secure the outer face level vent to the IP carrier (torque 2.3 Nm). Release the clips (x2) that secure the outer face level vent to the IP c