Tesla Model X: Adjusting Second Row Seats (Bench)
Second row bench seats can accommodate up to three passengers. Use the mechanical adjustment lever located at the side of each outboard seating position to adjust the seat backs. A bench seat is split 60/40 so the adjustment lever on the left side moves the seat backs for both the left and center seats, whereas the lever on the right side moves the rightmost seat back only. While pulling and holding the lever, move the seat back to the desired position, and then release the lever. When returning a seat back to its upright position, try moving it forward or back to ensure it is securely latched into position.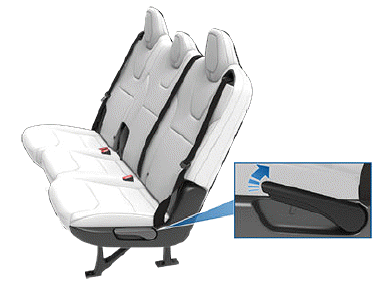 WARNING: Riding in a moving vehicle with the seat back reclined can result in serious injuries in a collision, as you could slide under the lap belt or be propelled into the seat belt. Ensure the backs of occupied seats are reclined no more than 30 degrees when the vehicle is moving.
READ NEXT:
The second row seat backs on bench seats can be folded fully forward so they lay flat and maximize cargo space. Pull up the mechanical lever located on the side of each outboard seat (the same leve
A Model X equipped with monopost seats can accommodate two passengers in the second row. To adjust the position of these seats, use the manual adjustments. Use the button near the top of the seat
Bench Seats If your vehicle is equipped with bench seats, a button is located on the backrest of each second row outboard bench seat. This third row ingress button makes it easy for passengers to e
SEE MORE:
Special tool(s) required for this procedure: Part Number Description 1000991 Axle Extractor Tool Remove Remove the LH rear wheel arch liner (refer to procedure). Remove an
Removal Remove the 2nd row Seat Assembly (refer to procedure). Installation Warning: Ensure that 12V is still disconnected. Position the seat in the vehicle. Reconnect the seat harnesses. Reconnect 12V power. With Toolbox running, re-enter Seat Install Mode.