Tesla Model X: Dimensions
Exterior Dimensions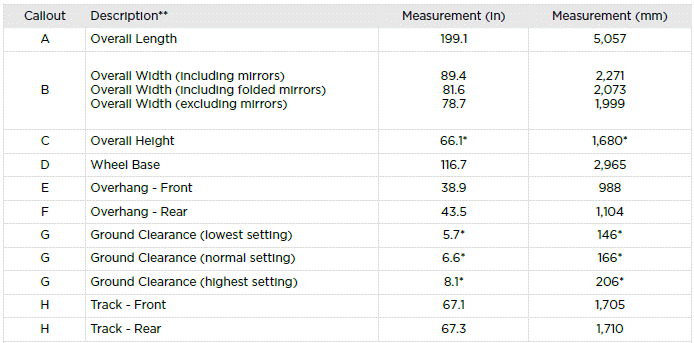 *Values are approximate. Dimensions can vary depending on a vehicle's options and various other factors.
**Based on 20" wheels with Medium suspension
CAUTION: Depending on configuration (such as suspension height or wheel selection), your vehicle's liftgate can open up to approximately 8 feet (2.5 meters) high. See Adjusting Liftgate Opening Height to adjust the liftgate height and prevent it from coming into contact with low ceilings or other objects.
Interior Dimensions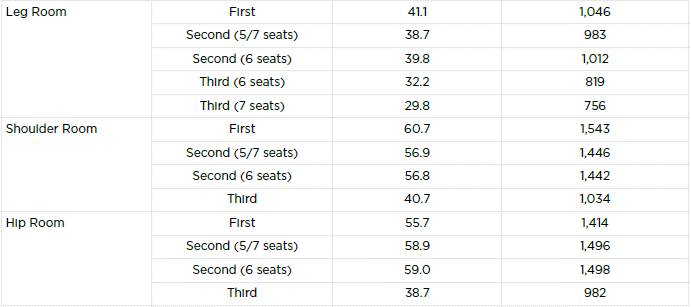 Cargo Volume
5-Seater Cargo Volumes

6-Seater Cargo Volumes

7-Seater Cargo Volumes


Subsystems
Motor Type

Transmission

Steering

Brakes


Suspension

Battery - Low Voltage

Battery - High Voltage

READ NEXT:
Wheel Specifications (Factory) NOTE: For instructions on how to jack/lift Model X, see Jacking and Lifting. Tire Specifications (Factory) Tire pressures vary depending on the type of tires fitted.
Tesla Roadside Assistance is available to you 24 hours a day, 365 days a year, for the duration of your warranty period. Tesla Roadside Assistance is also available to speak with roadside service p
SEE MORE:
Removal Remove the passenger's seat assembly (refer to procedure). Installation Installation procedure is the reverse of removal, except for the following: Caution: Replace all Patchbolt(s). Restore the seating profile. Use Toolbox to update or redeploy the firmwar
Removal Remove the RH parcel shelf support (refer to procedure). Release the bolts (x2) that secure the rear HVAC duct bracket to the body (torque 9 Nm). Remove the rear HVAC duct. Disconnect the electrical connector from the subwoofe