Tesla Model X: Opening
To open the rear trunk, ensure Model X is in Park, then do one of the following:
Touch Controls > Trunk on the touchscreen.
Double-click the rear trunk button on the key fob.
Touch the rear trunk button on the mobile app.
Press the switch located under the liftgate's exterior handle (a valid key must be detected).
CAUTION: Before opening the liftgate in an enclosed area (such as a garage), ensure the opening height of the liftgate is properly adjusted to avoid low-hanging ceilings or objects (see Adjusting Liftgate Opening Height).
Model X must be unlocked or detect a key before you can use the switch to open the liftgate.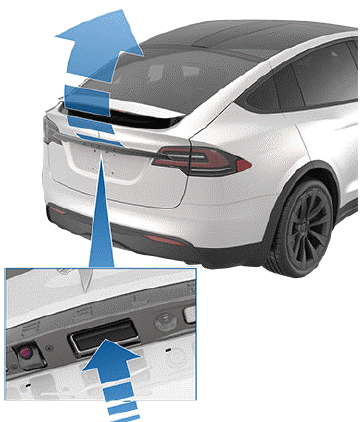 The instrument panel informs you when a door or trunk is open.
To stop a liftgate while it is moving, single-click the rear trunk button on the key fob. Then, when you double- click the rear trunk button, it moves again, but in the opposite direction (provided it was not almost entirely open or closed when you stopped it). For example, if you single-click to stop the liftgate while opening, when you double-click, it closes.
NOTE: In emergency situations, you can override an open or close command by grasping the liftgate to stop it in place.
If Model X detects a low ceiling (for example, in a garage), it opens the liftgate (and falcon wing doors) to a lower height, even if no obstacle is detected. You can override this height by manually lifting it higher. When doing so, the touchscreen prompts you to choose if you always want the trunk to open to this higher position at this location, and saves your choice. If you choose to do so, the next time you open the liftgate at this location, Model X opens it to the saved height.
WARNING: Before opening or closing the liftgate, check the surrounding area (for people and objects). Although the liftgate can detect obstacles, it cannot detect all objects at all times. Do not rely on the liftgate to sense an obstruction when opening or closing. You must proactively monitor the liftgate to ensure that it does not come into contact with a person or object. Failure to do so may result in damage or injury.
READ NEXT:
You can adjust the opening height of the liftgate to make it easier to reach or to avoid low-hanging ceilings or objects (for example, a garage door or light): 1. Open the trunk, then manually lower
Secure all cargo before moving Model X, and place heavy cargo in the upper trunk compartment. To access the cargo area inside the rear trunk, push down on the ridged portion of the handle of the ca
SEE MORE:
Warning: If the 12V power supply is disconnected, do not attempt to open the front doors with door glass in closed position. Failure to follow this instruction could result in door glass shatter. Note: Before disconnecting the 12V power supply, ensure that the driver's door w
Removal Recover refrigerant from the vehicle (refer to procedure). Remove the front RH wheel (refer to procedure). Release the rearmost push clips (x7) that secure the wheel arch liner to the vehicle. Remove the rearmost nut that secures the